Class Registration is Available Online, Over-the-Phone, and in person! 
Box Office Hours
Tuesday- Saturday 12pm-5pm
Register as soon as possible; class size is limited and classes with low enrollment will be canceled one week before start date. Full payment is due upon enrollment. Mesa Arts Center gift cards and credit cards (Visa/MasterCard/Discover/American Express) accepted.  
Jewelry, Ceramics, Photography, Printmaking and Glass offer free weekly Open Studio sessions for currently enrolled students.  Workshop students are not eligible for free open studio.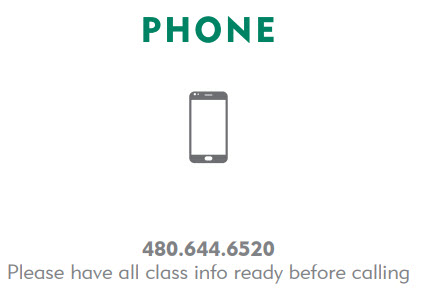 POLICIES+ 

GUIDELINES
Registrations for all classes are accepted on a first-come, 
first-served basis.
Additional fees may be required for certain classes. Check course description on website.

WAIVER:
As a participant, or parent or guardian of a participant, permission is granted to participate in the Mesa Arts Center programs listed 
below. Participants understand and agree that they may be photographed and/or videotaped for the promotion of City of Mesa 
archives and for use in publicity materials. I understand that there are risks of physical injury to the participant(s). Considering all 
possible risks, on behalf of the participant(s) and myself, I voluntarily waive, release, discharge, and hold harmless the City of Mesa, 
its employees, supervisors, appointed officials, agents representatives and volunteers from all claims for all injuries to participant(s), 
no matter how severe. Furthermore, I give consent for emergency medical treatment to the participant(s), no matter how severe. 
This waiver does not extend to any such claim or liability that is caused solely and exclusively by the gross negligence of the City of
Mesa or its employees, supervisors, appointed officials, agents, representatives and volunteers. 
The City of Mesa reserves the right to dismiss a student from the program for inappropriate conduct if necessary. This includes 
unsafe use of equipment, materials or supplies. Dismissal/permanent removal is at the discretion of faculty.

REGISTRATION CONFIRMATION:
Receipts will be emailed or mailed to you to confirm your enrollment. If you are traveling here from out of state, we strongly 
recommend purchasing REFUNDABLE AIRFARE in the event a class is canceled.
Fee assistance is available for selected programs for those who qualify for free or reduced School Lunch or Federal Subsidy 
programs. You must be a Mesa resident. All individuals requesting fee assistance are required to check the appropriate box and 
sign the waiver located on the registration form. Registrations will not be processed without the proper signatures. All fee assistance 
applications are subject to verification. For more information on fee assistance go to www.mesaartscenter.com/classes.
If your class is filled, you can ask to be placed on a wait list. If any openings become available, classes will be filled from the wait list. 
You will be notified if your class is canceled. SATISFACTION GUARANTEED: We are so confident that our classes are of the highest 
quality that we offer a money-back guarantee. Within the first week of classes, if you are not completely satisfied, we will refund 
100% of your class registration fee.
The Mesa Art Center is committed to providing universal access to all of our events and classes. Please contact our Studios Team at ArtStudioClass@mesaartscenter.com or 480-644-6541 to request a disability accommodation. Advance notice is necessary to arrange for some accessibility needs.
Registration Office Hours
In-Person:
Tuesday - Saturday 12-5pm
Sunday: CLOSED

Phone Lines:
Tuesday - Saturday: 12pm-5pm 
Sunday: CLOSED