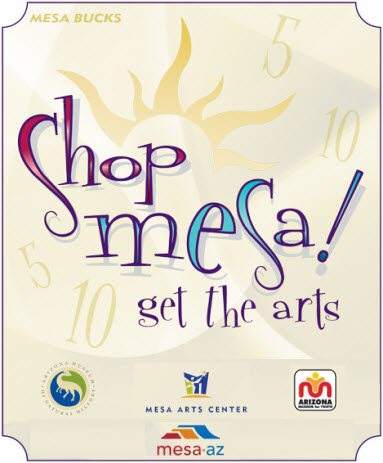 Shop Mesa 2015

How to get Mesa Bucks: Trust us – it's easy!

*Shop within Mesa City limits and save your ORIGINAL store receipts. No Copies!
*Ensure that the receipts have the store name and address listed. (Must be within Mesa)
*All receipts must be dated no earlier than 4/1/09.
*Total tax amount is calculated for Mesa Bucks.  It is calculated to the nearest $5 increments.
*A maximum limit of $200 tax dollars per day (each time you drop off receipts). Excess amounts are not credited for submission on another day.
*Bring the ORIGINAL receipts to the Mesa Arts Center and request for Mesa Bucks exchange! It may take a few days to calculate your Mesa Bucks.

SPECIAL NOTE: You will receive your original receipts back.

How to use your Mesa Bucks:

For the majority of the Performing Live series/events you will be able to use your Mesa Bucks. It is based on a buy one ticket (regular money) get one ticket for the same show using your Mesa Bucks. A few of the local affiliate companies may use the Mesa Bucks for events.  Mesa Bucks must be redeemed for tickets in person at the Mesa Arts Center Box Office.

Click list below for currents Mesa Bucks shows/events!

 
 For more information, contact the Mesa Arts Center Box Office at boxoffice@mesaartscenter.com or call 480-644-6500.
Order
Online
---
BY PHONE:
480.644.6500
---
IN-PERSON
One East Main St.
Mesa AZ, 85211
---
BOX OFFICE:
Mon-Fri, 10 AM-7 PM
Sat, 10 AM-5 PM
Sun, Noon-4 PM